Blogging is no longer just a trend, it is a regular part of life for millions of people.
You can use your blog to talk about everything from your life story to the things that are going on in your immediate community.
Blogging has also become a great way to earn while you write about what you care about. The best blogging platforms make it easy for you to get started in your quest to share your voice with the world.
What to Look for?
Before diving into the list, it helps to know what kind of platform you're looking for.
As a beginner, you'll want a blogging platform that's easy to set up, and doesn't require any coding skills.
You'll also need to think about what kind of blog you want to create, now and in the future.
As your blog grows, you may want to change the look of your site and add more features for your growing audience. That means it's important to choose a blogging platform that's flexible, with room to grow.
Starting off with the wrong platform can make it very difficult to switch later on.
Lastly, even if you don't have plans to make money yet, it's smart to make sure you have the option to do so in the future.
With all that in mind, let's compare the best blogging platforms for beginners.
WordPress
WordPress is the world's most popular blogging software.
(Note: It's easy to confuse WordPress.org with WordPress.com, which is a blog hosting service next on this list.
WordPress.org is an open-source software platform that allows you to build your website or blog on your own. It is a self-hosted solution, which means you will need to sign up with a WordPress hosting provider.
Pros
WordPress.org gives you control over every aspect of your website.
You can grow your blog and add extra features like forums, online store, and membership options to it.
There are thousands of free and premium themes available for WordPress. This allows you to create a beautiful website that stands apart from the crowd.
You also get access to more than 45,000 free plugins. These plugins are like apps for your WordPress blog, allowing you to add all kinds of new features.
WordPress is search engine friendly.
Cons
Managing your own website comes with a bit of a learning curve.
You will have to manage your own backups and security.
Wix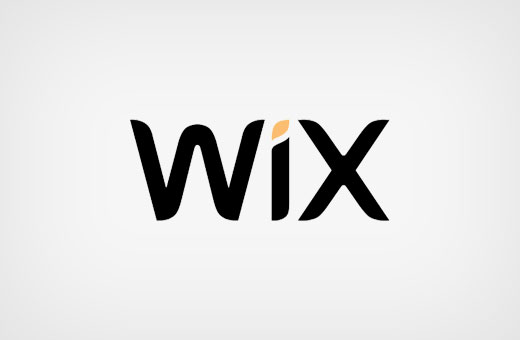 Wix is a hosted platform to build websites. It offers an easy way for small businesses to build a website using drag and drop tools. You can also add a blog to your website by adding the Wix Blog app.
Pros
You can customize your site using dozens of templates and third party apps.
Build your site with easy drag and drop tools; no coding skills required.
Setup is quick and easy.
Cons
The free account is limited and shows Wix branding and ads on your site.
Free third party apps are limited.
Once you choose a template you cannot change it.
Ecommerce features are limited to paid plans, and even those features are limited.
WordPress (Free)
WordPress.com is a blog hosting service offered by Automattic, a company created by WordPress.org cofounder Matt Mullenweg.
WordPress.com offers a basic blog hosting service for free. You can purchase additional options like a custom domain name, additional storage, and other premium services.
Pros:
No setup required.
Easy to use and manage.
Cons:
Limited options to extend your site.
You cannot run advertisements on your blog.
You do not own your blog and WordPress.com can suspend your account if they find you are violating their terms of service.
Blogger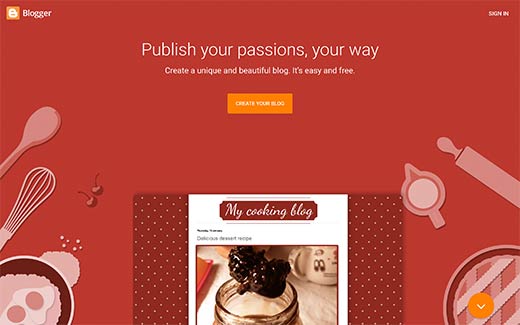 Blogger is a free blog hosting service. Acquired by Google in 2003, it offers a quick and easy way to create a blog for non-tech-savvy users.
Pros:
Blogger is free.
It's easy to use and manage without any technical skills.
Has the added advantage of Google's robust secure platform and reliability.
Cons:
You're limited to basic blogging tools, and can't add new features as your blog grows in popularity.
Design options are limited, with fewer templates available. Third party templates for Blogger are often low quality.
Blogger does not receive frequent updates or new features.
Google can suspend your blog at any time, or even cancel the Blogger service altogether.
Medium
Launched in 2012, Medium has grown into a community of writers, bloggers, journalists, and experts. It is an easy-to-use blogging platform with limited social networking features.
Pros:
Medium is easy to use, with no setup required and no coding skills needed.
It allows you to reach an existing online community of people of similar interests.
You can focus solely on writing, instead of designing a website.
Cons:
Features are very limited in terms of design or building a brand.
Medium owns your audience, so losing your blog means losing all your followers.
You cannot run your own ads to make money.
Tumblr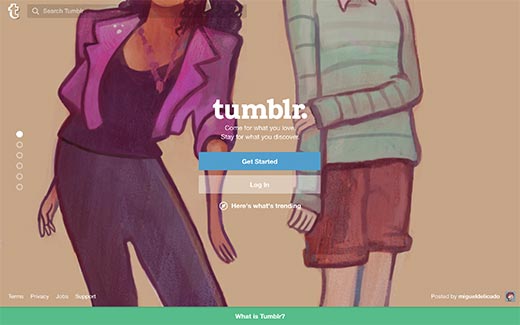 Tumblr is a little different from other blogging platforms. It is a microblogging platform with social networking features including following other blogs, reblogging, built-in sharing tools, and more.
Pros:
Tumblr is free and very easy to use.
It has an integrated social media component.
As a microblogging tool, Tumblr makes it easy to quickly blog videos, GIFs, images, and audio formats.
Cons:
Tumblr comes with a limited set of features that you cannot extend as your blog grows.
There are many themes available for Tumblr, but they can't offer additional features.
Backing up your Tumblr blog or importing it to other platforms is difficult
Squarespace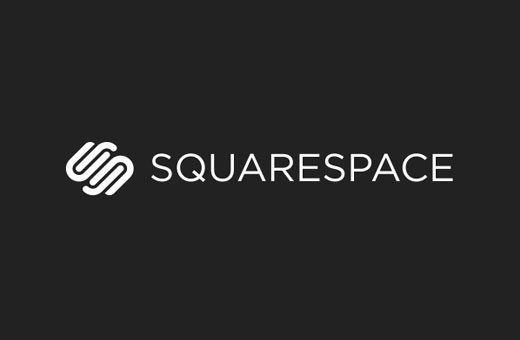 Squarespace is a website building service that allows you to create beautiful websites using easy drag and drop tools.
It focuses on small business owners who are looking for an easy way to create an online presence.
Pros
Squarespace is simple and easy to use for beginners who aren't very tech-savvy.
It has beautiful professionally designed templates.
It separately offers domain name with SSL/HTTPs and eCommerce stores.
Cons
Squarespace is limited to the features built into their proprietary platform.
The Personal plan limits you to 20 pages, a blog, and 2 contributors.
Integrations are limited to a select few services and tools.
Joomla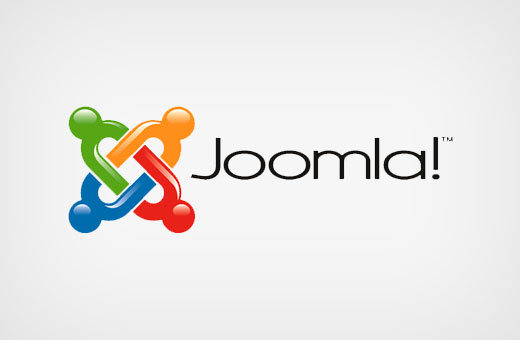 Joomla is an open-source software content management system, just like WordPress.org. It's also a self-hosted solution, which means you will need a domain name and web hosting to use it.
Pros
Joomla is extremely powerful and flexible, and can be used to build any kind of website or blog.
You can choose from hundreds of templates to customize your site's design.
Extensions (apps for your Joomla site) are available to add more features.
Cons
The Joomla community is much smaller than WordPress community, so there are fewer themes and addons than for WordPress.
Support options are limited to community support. Paid support is hard to find and can be costly.
You will be responsible for managing your backups, updates, and security.
Ghost
Ghost is a minimalist blogging platform with limited features focused on writing blog posts. It's available as a hosted platform, and also as a software that you can install and host yourself. We'll take a look at both options.
Pros
Focused on blogging and writing.
Clean, clutter-free, and intuitive user interface.
Written in JavaScript, so it's super fast.
No setup required for the hosted version.
Cons
Not easy to customize with apps.
The simplified user interface means options are very limited.
Not enough themes to change appearance of your site.
Complicated setup if you install it yourself.
Weebly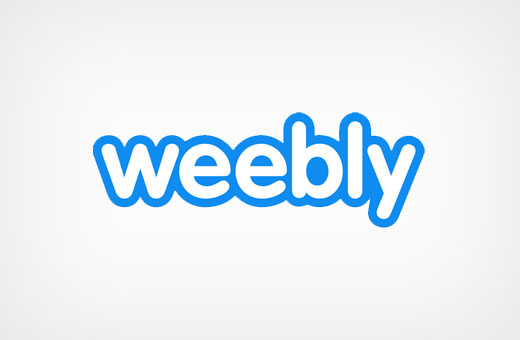 Weebly is a hosted platform that allows you to build your website using drag and drop tools. It comes with dozens of ready-to-use themes that you can customize using their web-based interface.
Pros
Easy-to-use drag and drop website builder with no technical skills required.
Quick and easy setup, since Weebly will host your site for you.
Weebly's free plan allows you to try out the service before buying.
Cons
Built-in features are limited, and you can't add new features.
Limited integration with third party platforms.
Exporting your site from Weebly to another platform is difficult.